Hey everyone!
I'm starting a new thread here based on my new YT amp demo/comparison/versatility-test series: the 'One Song, One Amp' series!
This whole concept originated from when I was trying to come up with a cool idea for a new epic amp comparison with 32 amps or so. The basic idea was that I'd write one song that does a good job of testing the versatility of an amplifier by going through multiple genres and tones with a bunch of different guitars. I realised that the final video will take a looong time to complete and it will be a very long video so I figured I'd release each individual amp video seperately. In the end when all the individual episodes are done I'll make one big compilation video that will be called something like 'One Song, 32 Amps!'. I'll post new amp videos here regularly. I will also be adding some bonus videos such as the Axe Fx III and Helix etc.
These are the tones/guitars that are featured in the 'One Song':
-Clean (Telecaster neck pickup & bridge pickup)
-Crunch (LTD Elite Eclipse-I with SD JB)
-Heavy Rock (Fender Jim Root Tele with EMGs)
-Solo Leads (Ibanez RGT320Z with Dimarzios)
-Heavy Metal (PRS SE277 Baritone with Dimarzios)
For that last segment I'll likely use a boost pedal in front of most of the amps, just to see how well they perform when boosted. I know a lot of guys who play the heavy genres like to boost their amps. For unboosted high gain rhythm tones just reference the 'Heavy Rock' section.
The first amp that will be featured in this series is the Marshall JVM410H: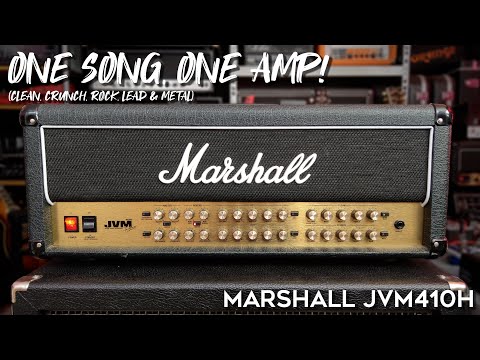 It's a great amp! I got this amp second hand a year or two ago and it instantly was a favorite. It's just such a versatile amp! The cleans on the clean are nice but I actually prefer the crunch channel for my clean tones as it's nice and bright/chimy, so that's why I went straight to the crunch channel. The tones on the regular clean channel are a little too dry for my taste most of the times. Not bad at all, I just prefer the crunch channel.
Love the crunch tones as they sound very organic and have that nice 'pillowy' saturation. This channel is very versatile as it can do a lot of classic Marshall tones in one!
The heavy rock tones on this amp are great! Love the OD1 channel on the orange voicing for rock and heavier stuff.
The lead tones also came out quite nicely. Plenty of saturation with nice compression but clear pick-attack. Not bad!
The boosted metal riffs also sound great! A little noisy with the staccato parts but the way I record my tracks inherently introduces some noise with such guitar parts. Anyway, this sound is thick, punchy and gnarly but still with that full sounding Marshall frequency spectrum. My new Laney Steelpark does a great job at boosting the amp. The PRS SE277 can get a little muddy on the lows so this pedals helps to make everything sound more angry and tight.
Overall impressions of this amp in this particular test are very good! It's a modern Marshall with many options and plenty of gain where you need it, but it doesn't lose it's classic organic Marshall tone!
Ok, that was the first amp! 31 to go! What did you think of this amp? How well did the Marshall JVM410H do in this test?