Just as Motown had the Funk Brothers, the L.A. recording scene of the 1960s had their own group of musicians that worked on so many hits.
This man was one of the "first-call" players.
(from Vintage Guitar magazine's website)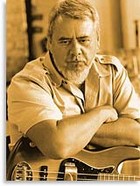 Born August 28, 1937 in Mound, Louisiana. He first played N'awlins local clubs, then recorded with Dale Hawkins and backed up country singer Bob Luman.
He was one of the musicians (along with James Burton) in the Ricky Nelson band that recorded "Travelin' Man",
and from there he started working with Johnny Rivers.
Leo Fender
handed him a stack-knob Jazz, and he was a little let down because it wasn't a split-coil P. He got used to the feel of the neck, though.
I'd say he made good use of it, wouldn't you?
Along with Jamerson, he was another LaBella flats user who didn't change his strings for decades, although his signature sound was achieved with a pick.
A woefully partial discography:
1961 - Rick Nelson - Travelin' Man
1965 - Gary Lewis & The Playboys - This Diamond Ring
1965 - Barry Maguire - Eve Of Destruction
1966 - Mamas & Papas - Monday Monday, California Dreamin'; Johnny Rivers - Poor Side Of Town, Secret Agent Man
1967: The Association - Windy; Mamas & Papas - Dedicated To The One I Love; Glen Campbell - By The Time I Get To Phoenix
1968 - Richard Harris - MacArthur Park; The Association - Never My Love; Fifth Dimension - Stone Soul Picnic; Grass Roots - Midnight Confession
1969 - Fifth Dimension - Wedding Bell Blues; California Soul
1969 - Tommy Roe - Dizzy
1970 - Carpenters - Close To You; We've Only Just Begun; Superstar (he discovered them, and brought them to the attention of Herb Alpert at A&M Records)
1970 - Neil Diamond - Cracklin' Rose
1970 - Partridge Family - I Think I Love You
1970 - Simon And Garfunkel - Bridge Over Troubled Water
1972 - Helen Reddy - I Am Woman
1973 - Carpenters - Top Of The World
1973 - Helen Reddy - Delta Dawn
1974 - Carpenters - Please Mr. Postman
He moved to Nashville in '74, and semi-retired in '88, although he does record occasionally.
As recently as 2012, he recorded and produced an album with teen prodigy Matthew Davidson.