Re: Warmoth LP bolt-on?? Haha, I thought it might be sweet...
I have to say: nice axe! you truly put your own ideas in this guitar, and I love it. I'm a 'warmoth les paul' player too... Hell, I have FIVE of them. Oh well, I like guitarp*rn, I can't help myself but posting them
Here are my warmoth les pauls: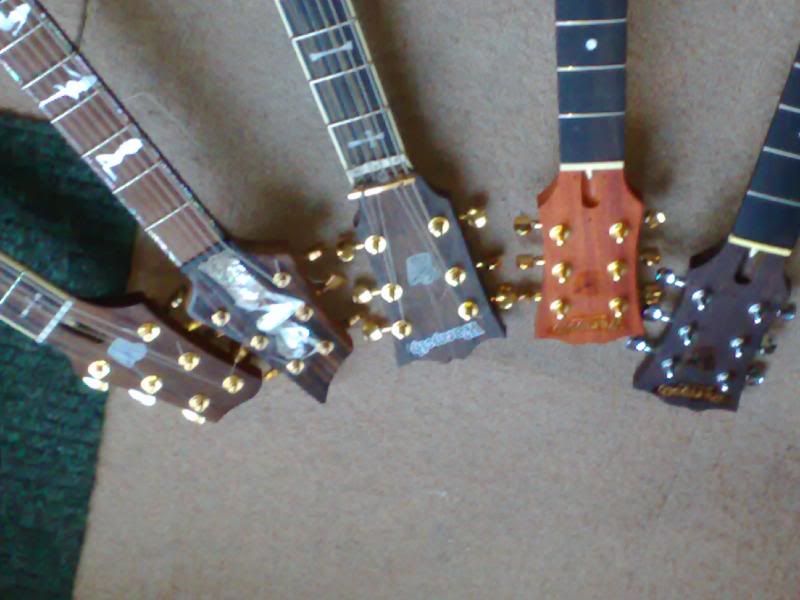 the tobaccoburst:
flamed maple on mahogany, wenge neck with macassar ebony board, rio grande BBQ/TX set, with coiltaps.
the cherryburst: padouk neck, macassar ebony board, JB/jazz set, quilt maple on chambered mahogany
the purple quilt:
AAAAquilt on singlepiece chambered mahogany, hipshot tremolo, brazilian rosewood neck and BRW fingerboard, motherbucker in neck and bridge, prails in the middle (nowadays)
purple flame:
AAAAAflamed maple on flamed black korina, rio rosewood neck and fingerboard, celtic cross inlay, BKP miracle man pickups, hipshot tremolo
'the other':
flamed koa top, solid walnut back, ziricote neck, macassar ebony board, custom inlay, old gibson pafs (1969!) and a telecaster bridge singlecoil in the middle, just for the looks...
I sold almost all of my gibsons for warmoth Lp's, and I can say: they rock! the topicstarter made an excellent choice when he got his own warmoth!