Hey everyone!
Small/low-wattage or lunchbox amps are popular these days and I'm a fan myself. I thought it would be cool to have a thread where we can all chat about our love for those smaller amps. Also, since I have 20 amps that fit in this category I thought it would be fun and perhaps beneficial if I created a comparison with clean and dirty tones so that people can easily compare the amps sound-wise.
It's a long video so I put timecodes in the description so you can easily skip to all the different sections. There are clean and dirty segments for each amp and also full band and isolated segments. Hopefully that's useful
So here's the video: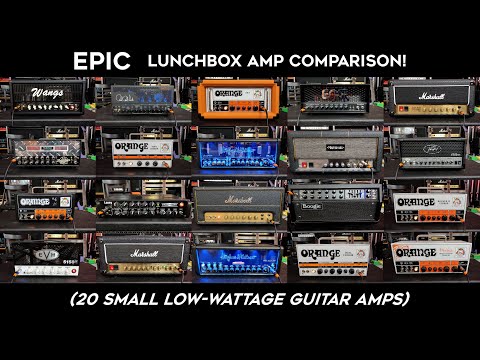 I also wrote out some mini reviews of all the amps. It's a lot to read perhaps lol:
-
Wangs HD-15
: As I said in the video, great little amp! Well, it's not that tiny for a 15w amp and it sounds huge! Love the cleans as those are nice and sparkly. A bright clean channel indeed that can be pushed into very warm and natural saturation. The crunch tones are very good as well but the drive channel is where the magic is for me. Love the saturation and fatness of this channel and I think it sits in the mix very nicely. It does remind of a Soldano. It's probably not the most aggressive high-gain amp in this collection so for extreme metal it could benefit from a boost. With a boost I'm pretty sure it will SLAY! Love it for rock though. I think it's a good thing when amps have so much character because they make you work that guitar a little bit more. I would love to try more Wangs amps in the future. Can highly recommend this amp!
-
PRS MT15
: A very popular amp so a lot of folks are familiar with this one. I've featured this in a lot of my videos because 1. it's awesome and 2. it's a good benchmark for comparisons I guess. The high gain sounds are tight and the eq is powerful so there is a lot of room for shaping the sound to fit the mix. The cleans are cool too but they are a little clinical. That's not a bad thing per say but I personally prefer clean channels that can break up a little more. This thing is very loud and has plenty of headroom for a 15w amp. It does have big lows too that are not easily squashed by the power-section. Can also highly recommend this amp if you're looking for something affordable but with a lot of power. Don't expect it to do classic rock well though...
-
ORANGE OR15
: One of the more popular Orange lunchbox amps afaik. It does have that classic Orange headshell so it looks cool! It's a simple amp just as most of the other Orange amps but that does not mean that it isn't capable of producing a bunch of different tones. The cleans are nice and sit in the mix well but as you turn the gain up you can get some wonderful and classic Orange crunch tones. When you turn the gain up even more you'll notice that this thing has more than enough gain for rock, stoner/doom and metal. Sure, it's a little fluffy sounding but that is why you buy an Orange right? It doesn't have the 'cut' or 'grind' that the Tiny Terror has for example so it's not the most 'metal-suited' amp of my Oranges but that's easily fixed with a boost or some mild eq. Killer little amp!
-
ENGL Ironball
: Another popular lunchbox amp. I actually got this one because a lot of people requested/recommended it on my channel. This amp does not disappoint when it comes to the high-gain tones. The cleans are also actually really nice. You can even get some pretty nice crunch tones. The high-gain tones is where the magic is though. This is definitely one of the more tight sounding high gain amps from my collection and that is coupled with a very huge low-end which is typical for ENGL amps and a characteristic that I like. I think this amp proves that small amps don't need 6L6's or EL34's in order to sound big. Just compare the isolated sections of this one to the MT15 for example. The EL84's are just fine. Just don't crank it up too loud (this counts for most small amps of course). Would recommend this one to anyone who's looking for a small amp that's great for metal!
-
MARSHALL SC20H JCM800 Studio
: Man, I really love those small Marshall amps. The looks are classy but they sound so good! This is my first JCM 800 and I really dig it. As a rock and metal player mainly I had to get used to this amp because it does not have a lot of gain. It has a lot of character so now that I've spent more time with it it's probably one of my favorite amps! I can see why it's a classic. The cleans are so sparkly and glassy, easily recognisable as a JCM800 imho. The drive tones are great too, gotta love how these amps function in a full mix. A good balance of bottom, mids and brightness. Of course boosts can take this thing to the next level so for metal I definitely recommend doing that. What else can I say? This amp does what it says on the tin. Would recommend this to anyone who's looking for a Marshall-style amp with a low-wattage rating. It's still pretty darn loud though...
-
MESA BOOGIE Mini Rectifier Twenty-Five
: I'll start by saying that I am a fan of the Mesa Rectifier series so it's probably not a surprise that this is one of my favorite lunchbox amps in general. In a lot of instances I even prefer this one over my big 100w Dual Rectifier. It's not a cheap amp (at least over here in Europe) but it does deliver that classic Mesa Recto tone. Sure, at a lower level and with less headroom but for recording or practicing etc. this thing is just perfect. The channel voicings and wattage settings make this amp even more versatile than you might expect. The cleans are bell-like and clear, the crunch tones are raw and dirty and the high-gain tones are just what you'd expect from a Recto. Big, scooped and fizzy but in a good way! I do think this little guy has more midrange presence that my 2000's non-multiwatt Dual Recto. This is something that counts for most of these amps, but: if you're going to use this amp on stage with a loud drummer consider mic'ing it up through the PA or make it louder with something like the Boss Tube-Expander. Also, this thing looks CUTE! It's super tiny.
-
ORANGE Tiny Terror
: Ah, the OG lunchbox amps that (as far as I know) jump-started the Lunchbox amp 'craze'. I had to buy mine used since they don't make these anymore but I really dig this thing. Such a simple layout with only 3 controls yet, so versatile! These are characteristics that you will see throughout the Orange amp line. The clean and crunch tones of this Orange are great but I especially love how raw the higher gain tones sound. They really cut through the mix in a wonderful and unique way! In short: a classic amp that everybody needs if I'm honest. They don't go for a lot of money used so I would recommend picking one up!
-
HUGHES & KETTNER Grandmeister Deluxe 40
: There is a LOT that I could say about this amp because it's an amp that's packed with great features. It's a 40w amp so definitely not the lowest low-wattage amp around but it still has a small and portable size. This must be the most versatile small amp that I can think of with it's 4 channels, multiple effects, boost, red-box DI, midi control etc. etc. The GMD40 really does everything from clean to super high gain and the on-board boost really helps to shape the tones even further. I also really appreciate the resonance control because of the control it gives over the low-end. I wish every amp had this options to be honest. This amp has a raw and slightly 'edgy' sound that really stands out but also fills-out the mix. If you're looking for an amp that 'does it all in a small package' this could very well be the one! Highly recommend this amp. Try one before you buy because the H&K sound is unique and it's not everybody's cupe of tea. I love it though.
-
MARSHALL 2525H Silver Jubilee Studio
: Of the 3 Marshall studio series amps this is definitely the one with the most tonal shaping options and also the one with the most gain on tap. The clean tones are sparkly and gorgeous, the crunch tones are great and the higher gain tones are very cool as well! With the pull rhythm clip option you can really change the character of the amp. It makes the sound a bit tighter and mid-focused whereas with the pull rhythm clip off the distortion gets a little warmer, rounder and fluffier. This control alone makes this amp that much more versatile. The EQ on this amp also is much stronger than on the others. You can really hear a big difference when you crank or lower these controls. I love how the bass control really starts to introduce a lot of thump when turned up (this is great for boosts). Perhaps the 2525H sounds a little less raw than the SC20H and SV20H but it sure is the most versatile one. I recommend it if you dig the sound in my demos.
-
PEAVEY 6505 MH
: Another little beastly amp that I really like. Perhaps this could be considered as the ultimate home recording metal practice amp. It's small and affordable but it truly does cary that signature 6505 (og 5150) sound that we all know so well. Sure, it doesn't have the same 'oomph' that the big 120w version has on stage but it's just fine in recordings. More mix-ready I suppose! This amp also sounds great at very low bedroom levels in my experience. Not much else to say other than I love it and highly recommend it, if you're into that 6505 sound.
-
ORANGE Jim Root
: Another discontinued Orange. This basically is a Rockerverb preamp in a smaller package. The Jim Root shares the same PCB as the OR15 but as you can hear in the comparison this thing does have it's own voice. The top-end is not super bright and fizzy but it does sit in the mix quite nicely because of that. It also does clean and crunch tones surprisingly well. Some people say that this amp sounds similar to the Dark Terror but I have to disagree. To my ears the Jim Root sounds MUCH better than the Dark Terror. I had a Dark but it was the worst sounding amp that I've ever owned and that's coming from an Orange fan! So I would recommend this amp to anyone who's looking for that Orange sound but slightly more geared towards modern tones than the OR15. Just a little bit more edge on the midrange I'd say.
-
LANEY IRT Studio
: I guess you could say that this is one of the lesser-known amps in my comparison but it sure is great! As far as I know the preamp is exactly the same as in my Laney Ironheart 60 head so it does sound very similar indeed. With it's 3 channels, gain boost, reverb, tone, dynamics and EQ push-pull controls this amp has a lot of shaping options to offer. This amp can go from nice cleans all the way up to some serious hard rock/metal high gain tones. It doesn't do super tight/modern metal tones like an ENGL or EVH does but it does deliver a very nice and even/broad tone that works well in the mix. It's an amp that can benefit from an external boost to tighten it up if that's your thing. It's also one of those amps that really has it's own signature sound so do try one before you buy if possible. It's not for everyone but I dig it!
-
MARSHALL SV20H 1959 SLP Studio
: This amp is hard not to love! It's also a very popular amp and for a good reason: it really does that classic Plexi sound but with less volume and in a smaller package. With this amp I can echo a lot of things that I said about the SC20H. It's amazing for those super classic British Plexi tones and the various input/jumper options do make this amp quite versatile when it comes to dialing in the overall EQ/gain balance. I wasn't expecting this amp to sound amazing in my comparison since this video focuses on clean and high gain tones but I was very surprised to find that I LOVE how this amp sounds with heavier styles. I guess the EMG pickups really helped in this case but a good old boost also always is a fine option with such an amp. For low to mid gain tones I love how expressive and dynamic the amp is. I'm a Led Zeppelin fan and it's just so much fun to play some Page riffs through this thing. The cleans are so nice as well. One thing you should know is that this thing is LOUD and since there is no master volume you might need an attenuator or something to make it sound good because it really does sound best when cranked way up.... Amazing amp!!
-
MESA BOOGIE Mark 5 Thirty-Five
: The Mark series amps are very popular and that makes sense since very famous and influential players like Petrucci, Hetfield and Santana use them. I was very excited when I bought the amp but I must admit that it took me a while to figure out how to make it sound good. There are many variables with this amp that can make or break a tone. I would definitely say that this is a tweakers amp so quite the opposite of something like an Orange where you just plug in and go almost right away. With the Mark V you really have to find a good balance between the gain and tonestack controls and also the graphic EQ of course. A great feature though because without the EQ the amp has a LOT of midrange. It's a very versatile amp though with it's 2 channels, 3 voicings per channel and the shaping options I mentioned. It's perfectly capable of delivering nice cleans, Metallica or Petrucci rhythms/leads and everything in between. Can it sound like a Marshall though? Perhaps not but it's capable of producing some sweet crunch tones.
-
ORANGE Rocker 15 Terror
: Another Orange! This one is cool because of the dual channels though. The natural channel on these amps doesn't just sound great by itself but it's an amazing pedal-platform. The even frequency response of this channel seems to work wonderfully well with my Friedman BE-OD Deluxe for example. Luckily this amp also has some great crunch and high gain tones on tap. It's slightly more round or vintage voiced than say the Tiny or Jim Root Terror but you can still rock out pretty hard on this one. I would recommend this to anyone who wants a small Orange amp with 2 channels, perhaps not for most metal players though as some of the other Orange amps are better for the more extreme genres. I also think this amp sounds great at bedroom levels!
-
EVH 5150 III LBX
: A tiny version of the (in)famous 5150 III, surely that can't live up to the name right? Well.... I think it does actually. This version does not have a clean channel and that is a shame but I'not a huge fan of the EVH clean tones anyway. The green channel on my EL34 50w sounds quite clinical for my taste. I love the red channel on the LBX. It really sounds quite close to my EL34. The resonance control doesn't have the same range as the bigger ones but it's just enough to make the amp sound bigger than it is! It's one of those amps that's probably not loud enough for a medium to big stage but for playing at home or recording it's more than enough. A great amp for that signature EVH sound but in a small package! It really does it's own thing though and no other amp in the comparison sounds close. It's quite tight and aggressive sounding, also a bit scooped. I dig it for certain things but I wouldn't call this a versatile amp. If that EVH tone is your thing this could definitely be the one for you though! If you need a clean channel, wait for the LBX Stealth that's coming out later this year.
-
MARSHALL DSL20HR
: I read about this amp quite often so I think this also is a popular amp. It's very affordable though so it could be a great way to get into the Marshall world if you're on a tight budget. This amp does not sound the same as any other Marshall that I own though so it's a character that has to be appreciated (or not lol). The clean channel is very bright and the gain channel quickly goes into high-gain territory so it's not the best amp for that classic Marshall crunch. The gain tones are more moder, saturated and fizzy so the gain tones cut through the mix quite nicely but I can imagine that this isn't the amp sound for everybody. If this is a sound you enjoy, definitely look into these amps!
-
HUGHES & KETTNER Black Spirit 200
: A solid state lunchbox amp with a wattage rating of 200 watts! This thing looks very similar to the H&K GMD40 which I discussed earlier and it shares most of the same features. The main difference is obviously the fact that it doesn't have tubes but it's also much lighter and slightly smaller than the GMD40. I personally think this amp sounds really cool! I love the sagging control that emulates the sound of powertubes being cranked. It can take a little time to dial it in so it sounds good for you but you can store all the presets and access them all via midi so it's a very convenient amp for many different situations. I would recommend just closing your eyes and listening to this amp without the preconceived assumption that 'tubes sound better'. You might find that this amp sounds pretty darn good and that it's a great option for someone who needs the features that this amp has to offer.
-
ORANGE Dual Terror
: The newer version of the Tiny Terror basically but with double the wattage and an additional channel in the form of the 'FAT channel'. As you might expect the Tiny Terror channel sounds very close to the original Tiny Terror but it doesn't sound exactly the same. Close enough though. This thing obviously is much louder due to double the amount of EL84's in the power section. The Fat channel is really cool and I think it's a great option to have. The (low)mids are more forward and prominent on this channel. I can't really decide which channel I prefer though so I'll leave that up to you. I absolutely love how this amp sounds and I would recommend this to anybody who's looking for a small but gig-worthy Orange amp with 2 channels. Keep in mind that's it's not super small and it's quite heavy!!
-
ORANGE Brent Hinds Terro
r: Another discontinued Orange amp... A very unique and cool little beast though. There is no other amp in my collection that sounds like this amp. The clean channel is similar to the one on the Rocker 15 Terror but has slightly more bass (slightly darker sounding) but the drive channel is a different beast altogether. It doesn't quite as much gain as you might expect from the guitarist of Mastodon but it takes boosts like a champ. The sound of this amp is much more raw, bright and angry than the Rocker 15 Terror. If you're looking for that classic Orange tone, this probably isn't the one for you but if you enjoy it's character, go for it! They go for cheap now!
So how do you feel about low-wattage amps? Are there any models in particular that you love for some reason?